Governor Kate Brown's March 23 executive order has closed many businesses but golf courses a…
Brian Ratliff is investigating a medical mystery that threatens the future of Baker County's…
Traffic volumes have dropped as many people stay home during the coronavirus crisis, but law…
Based on requirements in the executive order that Oregon Gov. Kate Brown issued this week, B…
Matt Reidy has two checks in his hand but he's not quite ready to hand them to Patsy Hoelsch…
Being over 330 miles from home, Baker School District Athletic Director Buell Gonzales Jr.'s day did not go according to plan.
Sign up for our newsletters
News Updates

Start your day with the top headlines
Sports & Outdoors

Get the latest local and national sports along with outdoor headlines delivered to your inbox
My right boot puffed dust and my left sunk into grainy snow of the sort that's usually squeezed into a paper cup and slathered with intensely sweet syrup that turns your tongue an artificially…
Poachers don't just steal from hunters, Yvonne Shaw emphasizes — they steal from every Oregonian.
I was driving through the sage, hoping to find a mild spring breeze and the early buttercup, when I glanced in the rear-view mirror and saw a cloud of dust roiling in my wake.
The great thing about art — perhaps even the greatest thing — is that you needn't be an artist to bask in the reflected glow of those who are.
Thanks to all who are helping during a tough time
The upheavals caused by the coronavirus, unprecedented in the memories of almost everyone alive today, could serve as the plot for a dystopian novel or film.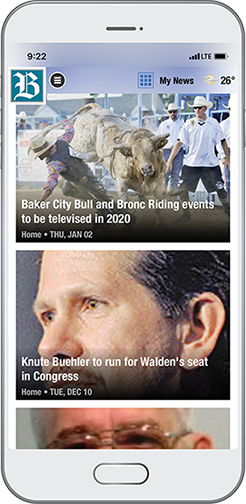 Get breaking news!