Tom Van Diepen and his passenger, Jason Dexter, took off from the Baker City Airport in Van …
The La Grande-Baker basketball rivalry was heating up on Peacock Court at Baker High School …
Baker sophomore Brianna Stadler claimed her second career state swimming title Saturday, win…
There are millions of trees in the Wallowa Mountains but sometimes it only takes one to stop…
The remains of a sailor from Baker City who was killed in the Japanese attack on Pearl Harbo…
Calling the event a "great American tradition" and a "good antidote to the friction in our society," U.S. Sen. Jeff Merkley spoke to about 60 people Thursday at the Baker City Senior Center.
Sign up for our newsletters
News Updates

Start your day with the top headlines
Sports & Outdoors

Get the latest local and national sports along with outdoor headlines delivered to your inbox
There are millions of trees in the Wallowa Mountains but sometimes it only takes one to stop a bunch of Boy Scouts.
My son Max was so focused on following the heading on his new compass that he didn't notice he had dropped one of his black ski gloves.
The annual Christmas bird count in Baker County yielded 71 species and thousands of individual birds.
Government must act boldly on global warming, wealth inequality
My wife said she saw a mosquito on her windshield the second week of February.
Confronting climate change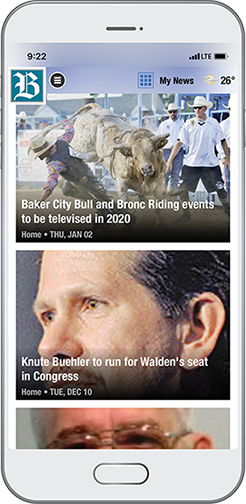 Get breaking news!