Police in Baker County worked diligently Tuesday morning to apprehend twin brothers who they believe are dangerous criminals.
The annual "Make It and Take It" kid craft event put on by Crossroads Carnegie Art Center had to change this year due to COVID-19 restrictions. Instead, it is "Take It and Make It" in a drive-…
A Baker City woman died in a one-vehicle rollover on Pocahontas Road near Washington Gulch Road late Monday night.
New Directions Northwest today opened a walk-in clinic in Baker City designed to provide better access to behavioral health services in the community.
Jonathan Cannon is eager to move most of the way across the country and settle in to his new office in historic Baker City Hall.
State biologists have confirmed that the outbreak of pneumonia that has sickened and in some cases killed bighorn sheep in both of Baker County's herds was caused by the same strain of bacteria.
Skiers and snowboarders rejoice: Anthony Lakes Mountain Resort is opening to season pass holders for the first turns of the season on Saturday, Nov. 28.
Jonathan Cannon of North Carolina is the Baker City Council's choice to replace the retiring Fred Warner Jr. as city manager.
For Baker County Sheriff Travis Ash, this Thanksgiving held a striking resemblance to another turkey day he and his family experienced in the past.
Valerie Tachenko uses one word to describe this year's Thanksgiving boxes:
Baker Middle School has announced its honor roll for the fall.
Jason Smith finally has a positive for the pandemic.
The Baker City Council announced today that it has picked Jonathan Cannon of Saluda, North Carolina, as the new city manager, effective Jan. 1.
The Baker School Board approved a District committee's recommendation to select the Vancouver, Washington, firm WRK Engineers to provide architectural and engineering services in a seismic ret…
Karl Wittich will serve roasted turkey as usual this Thanksgiving, but he'll miss the part of the holiday that he considers as nourishing, in its way, as anything on the menu.
Tom Clement thinks it's only reasonable that people walking a riverside path ought to be able to actually see the river.
Steve Ellis, former supervisor of the Wallowa-Whitman National Forest and a former Baker City resident, is a candidate to run the Bureau of Land Management for at least part of 2021.
Bob and Cherie Ward have donated Baker City's Community Christmas Tree twice in the past three years, but their second spruce didn't succumb as easily as the first.
Senior Renee Blincoe is happy to be back at Baker High School, even for one day a week.
A 16-year-old Baker City boy has been accused of shooting a BB gun at a vehicle as it drove along 10th Street Sunday night, shattering the vehicle's back window.
Two Baker City men who have been sought by police in unrelated incidents were arrested earlier this week.
Baker City Police arrested a 19-year-old man Tuesday morning, Nov. 17, in an incident that began when he allegedly drove his car around another vehicle that had stopped for a pedestrian, nearl…
The Baker City Council has trimmed the list of candidates to become the new city manager from three to two.
Baker County commissioners decided to scrap their effort to hire a contractor to run a visitors center in Baker City and restart the process after the county's attorney concluded the process w…
The snow, nearly 2 feet deep, hid the reality only until Wes Morgan lowered the snowplow blade.
Oregon State Police officers are investigating a crash that left an Oxbow man seriously injured when he was ejected from his pickup truck as it rolled down a steep embankment near Oxbow about …
Whether it's kicking a soccer ball into the net, or kicking a football between the goal posts, Baker High School freshman Jozie Livingston's schedule is hectic.
Baker City Mayor Loran Joseph expects the City Council to offer the city manager job to one of three candidates during a special meeting this evening.
Four of the five people who will be sworn in as Baker City Council members in early January said they were especially impressed by one of the three candidates to serve as city manager.
The three candidates for the Baker City manager job were in town on Thursday.
A snowstorm more typical of January than of early November brought copious amounts of snow and gusty winds to Northeast Oregon Friday morning, causing a power outage and closing the eastbound …
The Baker City Council on Tuesday agreed to have the city borrow as much as $7.5 million from the state to pay for one of the city's bigger public works projects in the past few decades.
A Baker City man who was arrested during a law enforcement sweep of a southeast Baker City property known in the neighborhood for rampant drug activity has been sentenced to 33 months in priso…
Hospital employees in Baker City were treated to lunch on Monday as a thank you from the Saint Alphonsus Foundation.
Valerie Tachenko remembers first making Thanksgiving food boxes when she was 6, and in first grade at the Seventh-day Adventist Christian School.
The Baker City Council on Tuesday night adopted a policy prohibiting city police officers from using excessive force against people engaged in nonviolent civil rights demonstrations, paving th…
Kenneth Anderson was practicing for what might have been his own death when the news arrived aboard his Navy ship anchored at San Diego.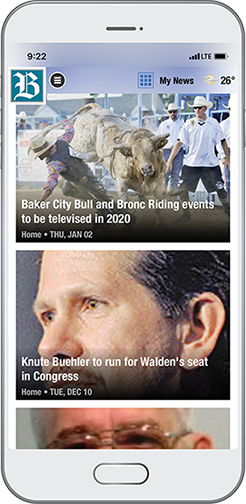 Get breaking news!