Baker County Commission Chairman Bill Harvey spent several minutes at the end of the Commission's Wednesday, May 5 meeting addressing a series of rumors involving his actions.
Pedestrians and bicyclists will soon have a safer way to get from one side of Interstate 84 to the other at Baker City's busiest freeway interchange.
Wildfire Awareness Week is designed to remind people about the threat of wildfires yet to come, but this year it seemed that the event might be a trifle late in bringing its message in Baker County.
The Baker City Council's passage of a resolution blaming Oregon Gov. Kate Brown's COVID-19 restrictions for creating an "economic, mental health and criminal activity crisis" in the city has r…
HALFWAY — Jon Hanley is a temporary resident of Halfway, but he's leaving a permanent mark.
Plans are moving forward to create an Oregon Trail experience in Baker City during a two-year closure of the National Historic Oregon Trail Interpretive Center that starts next winter.
Wolves from the Keating pack in Baker County killed a pair of two-month-old calves on a public land cattle grazing allotment north of Keating Valley last week.
Three fatal drug overdoses in Baker City in the past six months were tied to counterfeit opioid pills laced with fentanyl, a powerful painkiller, local officials said in a press release on Mon…
For the first time since it opened back in 1950, the Baker Bulldog Memorial Stadium could be in line for a major renovation project.
Landon Hull shaded his eyes to see the man, high in the sky, who was raising a package above his head.
A Baker City Police officer deployed a spike strip on Wednesday evening, April 28, to stop a car that had led an Oregon State Police trooper on a high-speed chase along Interstate 84 and then …
Former Baker City Council member Beverly Calder stood in protest Tuesday evening, April 27 when Mayor Kerry McQuisten declined to let Calder speak during a discussion about the pandemic.
More than four years after voters in Halfway decided by a narrow margin that they don't want a marijuana dispensary in their town in eastern Baker County, the topic has returned to their ballots.
The Baker City Council on Tuesday, April 27 decided not to increase water and wastewater rates by 1.9% as the city staff recommended.
An investigator for the Oregon Government Ethics Commission found a "preponderance of evidence" that Baker County Commission Chairman Bill Harvey tried to use his position to benefit himself, …
The Baker County Narcotics Enforcement Team, with help from multiple other agencies, on Monday, April 27 arrested a suspect in the sale of heroin, methamphetamine and fentanyl in Baker County …
Baker County had its first rainy day in more than a month, and its dampest day in more than eight months.
Baker County Commissioners on Wednesday, April 21 approved the first reading of an ordinance amending the county's zoning ordinance.
The Baker County Safe Communities Coalition is conducting another Rewards and Reminders outing in Baker County during April, a program designed to remind stores that Oregon law prohibits them …
HAINES — When state COVID-19 mandates forced Kari Raffety to temporarily close The Main Event Sports Bar and Eatery in Baker City, she set to work on a pandemic project.
Baker City's new drinking water well is finished, but considerably more work is needed before it starts putting water into pipes.
Friendship and a public art project are the reasons there's a colorful new bovine in front of the Baker Heritage Museum.
Baker County's abnormally long spring dry spell likely will end this weekend.
Investigators were focusing on the laundry room as the likely source of a fire that severely damaged a Baker City home Wednesday morning, April 21.
Three people were arrested on a variety of drug and weapons charges early Sunday in Baker City after an Oregon State Police trooper stopped their car because the front passenger was not wearin…
The work group reviewing Baker County's lodging tax system hopes to have a draft request for proposals for the visitor services contract — the issue that prompted the group's formation in Marc…
Baker City has installed six security cameras in Geiser-Pollman Park, the city's largest park, and six more cameras in Central Park.
Several Baker Middle School and Baker High School students were named state champions after the recent virtual Future Farmers of America convention.
A Huntington man was arrested Saturday evening on multiple charges for allegedly assaulting his mother and then struggling with police after they were called to the scene of a disturbance near…
They wind their way between the pines like wraiths, dripping dollops of fire with each stride.
For the fourth time in four years, Baker City has removed trash and other debris from a property on the east side of town.
The Baker County Sheriff's Office encourages residents to check their mailboxes daily after a rash of mail thefts along Highway 7 between Baker City and near Sumpter.
Whether it's swimming laps at the Sam-O-Swim Center, or adding more weight on a squat rack in the free weight area at the fitness center on Pocahontas Road, the Baker County YMCA is striving t…
Baker City Council members expressed concern about proposed increases in water, wastewater and other fees during their regular meeting Tuesday evening, April 13 at City Hall.
The Baker County Sheriff's Office encourages residents to check their mailboxes daily after a rash of mail thefts along Highway 7 between Baker City and near Sumpter.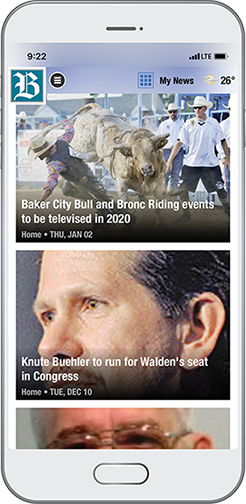 Get breaking news!