They wind their way between the pines like wraiths, dripping dollops of fire with each stride.
For the fourth time in four years, Baker City has removed trash and other debris from a property on the east side of town.
The Baker County Sheriff's Office encourages residents to check their mailboxes daily after a rash of mail thefts along Highway 7 between Baker City and near Sumpter.
Whether it's swimming laps at the Sam-O-Swim Center, or adding more weight on a squat rack in the free weight area at the fitness center on Pocahontas Road, the Baker County YMCA is striving t…
Baker City Council members expressed concern about proposed increases in water, wastewater and other fees during their regular meeting Tuesday evening, April 13 at City Hall.
The Baker County Sheriff's Office encourages residents to check their mailboxes daily after a rash of mail thefts along Highway 7 between Baker City and near Sumpter.
The Baker City Council will consider a fee resolution when it meets Tuesday evening that includes modest increases in water and sewer rates.
Three members of the Baker County Sheriff's Office's search and rescue team brought to safety a Beaverton couple and their son early Monday, April 12, after their car became stuck in the snow …
When the calendars flip from April to May, for the first time in two years Wade Williams Field and the softball complex on 17th Street will echo with the sounds of bats on balls and the sight …
One of Baker County's major summer events — three of them, actually — are slated to return in 2021 after being casualties of the COVID-19 pandemic in 2020.
An adult wolf from the Cornucopia pack in eastern Baker County was hit and killed by a car on Highway 86 near Richland either late Wednesday night or early Thursday, April 8.
Baker High School administrators and senior class officers are planning a traditional commencement for Sunday, June 6 at 2 p.m. at Baker Bulldog Memorial Stadium.
RICHLAND — A rising and increasingly popular band called The Locals has organized a luncheon and auction for April 17 to help raise money for the Carmelita Holland family, who lost their home …
Students in the Baker School District won't have to take annual state tests this spring unless their parents want them to.
Last year Baker County declared a drought disaster when summer was on the wane.
A Boise man is in the Baker County Jail on multiple charges, including assaulting a peace officer, after he twice punched a Baker City Police officer in the face while resisting arrest early T…
Wes Morgan has a nearly full reservoir, and he can't just twist a faucet to stop the inflow.
Gary Timm understands that it's a good time to burn dead grass along ditches and fences, or piles of debris.
A light breakfast and coffee will be served during an open house from 7 a.m. to 9 a.m. Friday, April 16, to celebrate a special event at the Baker Early Learning Center (BELC).
A work group comprising Baker County and Baker City representatives has started reviewing the lodging tax program that helps pay for tourism promotion and economic development.
The Cribs for Kids program is going on five years in Baker County with the number one goal of saving babies.
Members of the Baker County Sheriff's Search and Rescue Team brought to safety a Washington man who spent Sunday night, March 28 in his vehicle after he got stuck in the snow on an unmaintaine…
Jack Clubb moved from Baker City when he was a teenager, but his affinity for the town remained throughout this life.
Venkat Subramanian doesn't live in Baker City, but he wants to support this community as much as he can.
The Hells Canyon Motorcycle Rally, one of Baker City's biggest annual events, will be a two-time casualty of the COVID-19 pandemic.
Chelsea Hurliman is eager for Baker High School students to return to a four-day week and remain in their classrooms all day except when they are called away for extracurricular activities.
The COVID-19 pandemic has hampered all sorts of events, but American Red Cross blood drives in Baker City aren't among them.
The Hells Canyon Motorcycle Rally in Baker City won't happen for the second straight summer due to the COVID-19 pandemic.
A powerful storm barged into Baker County Sunday night, March 28, rapidly replacing the summer preview that prevailed earlier in the day with chilly wind gusts more typical of winter.
Two new members will join the Baker School Board when it convenes in July as the next fiscal year begins.
The air inside the Baker County Library District's main branch in Baker City has never been cleaner, Ed Adamson says, his pride palpable even though most of the particles that are no longer wa…
Baker City's most famous backhoe is finally on the auction block.
A Baker City man will spend the next 28 months in prison for taking liturgical objects valued at nearly $11,000 from the Catholic Church and for stealing miscellaneous items during car prowls …
The Baker City Council on Tuesday, March 23 awarded a bid for filling cracks and applying a sealant to the main runway and a parallel taxiway at the Baker City Airport.
Three passengers were hurt, one seriously, in a one-vehicle crash on Interstate 84 Sunday, March 21.
A 17-year-old North Powder boy was cited on a charge of reckless driving after his pickup truck failed to negotiate corners on the graveled McCarty Bridge Road, careened into an embankment and…
The Baker City Council has approved a resolution blaming Gov. Kate Brown's COVID-19 mandates for creating an "economic, mental health, and criminal activity crisis" in the city.
Gracie Hardy enjoyed living on the East Coast, and she liked the idea of working in a museum in Virginia.
Baker School District students in Grades 7-12 will be returning to classes four days a week beginning April 12 if all goes as planned in the next few weeks.
The man who has served as second in command under Baker City Police Chief Ray Duman for the past year and a half has been chosen to replace him.
Some rural property owners in Baker Valley could save money on their fire insurance due to the Baker Rural Fire Protection District's effort to augment its firefighting capabilities.
The Baker City Council on Tuesday evening, March 23 will consider approving a resolution declaring an "economic, mental health and criminal activity crisis" resulting from Oregon COVID-19 mand…
The organizer of the Baker City Bull and Bronc riding competition, one of the signature local summer events, has added the two-night contest to his list of rodeo events for 2021.
A Baker City man was jailed after he allegedly crashed his car into another vehicle early Saturday morning, March 20 and then drove away.
A fire that started Saturday afternoon, March 20, destroyed a home in New Bridge, about three miles north of Richland.
Wolves from the Lookout Mountain pack in eastern Baker County consumed a recently born calf last week near Pritchard Creek, north of Durkee, but state wildlife biologists couldn't determine wh…
Over the past month, three Baker High School seniors have taken a momentous step in their athletic careers, signing their national letter of intent to compete on the collegiate level in their …
After 18 months of planning, paperwork, and fundraising, the emerging Baker Relief Nursery is now open to help local families
The owners of five historic buildings in Baker City have received federal grants totaling $10,000 to replace roofs, repair windows and do other improvements.
David Spaugh and his daughter, Katie, might some day return to the alpine saddle high in the Elkhorn Mountains.
Baker County will receive $3.13 million, and Baker City $2 million, from the federal COVID-19 aid bill that President Joe Biden signed last week.
When Terry Benge saw the silver car speeding straight at him, he scarcely had time to react.
Lindianne Sarno is ready to share her love of music and gardening with Baker City.
U.S. Sen. Jeff Merkley, D-Ore., had an online town hall for Baker County residents on Tuesday, March 16, and federal COVID-19 aid was a major topic.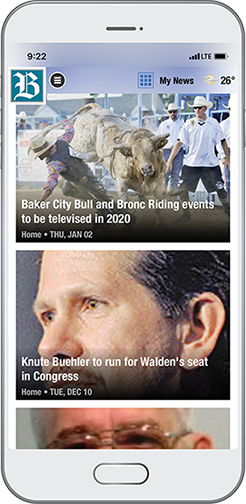 Get breaking news!