Temperatures aren't the only thing more typical of late July than of late June in Northeastern Oregon.
Jackie and Virgil Borger will celebrate their 75th wedding anniversary on Wednesday, June 23.
A West Coast shortage of chlorine, which is used to disinfect drinking water, is not having a direct effect on Baker City for now.
A bacterial infection that has killed more than 100 bighorn sheep in Baker County's biggest herd over the past year and a half, including the entire 2020 crop of lambs, might be waning.
A Baker City man is accused of receiving money from clients for construction projects that he failed to start or finish.
Drought causes all sorts of problems, but at least one affected group isn't likely to engender any sympathy for its plight.
Plans are in high gear for the 2021 Miners Jubilee weekend July 16, 17 and 18. The annual event, which was canceled in 2020 due to the pandemic, is expected to draw record crowds.
Mark Witty, superintendent of the Baker 5J School District since 2015, will officially retire on July 1 but he plans to continue to lead the district for two more years.
Caleb Hawkins and Evelyn Bedolla found their preferred type of educational experience at Eagle Cap Innovative High School.
The Baker Heritage Museum is honoring Baker City's most famous philanthropist with a celebration on his birthday.
Baker County Commissioners on Wednesday, June 16 took the first step toward potentially declaring as a public road a section of Pine Creek Lane that's the subject of a lawsuit in which the cou…
Sandi Fuller has worked at the Marvin Wood Products plant in Baker City for almost three decades and she never found it especially difficult to hire employees.
If you have seen more bicyclists than usual zooming down Baker City streets, chances are they're passing through town on the Trans Am Bike Race, an annual cross country race from Astoria to Yo…
In just two days, Joanna Mann went from college student to newspaper intern in the smallest town she's ever lived in.
Baker City Police arrested two girls, ages 11 and 12, on Tuesday, June 14, on criminal mischief charges during an investigation of vandalism at Geiser-Pollman Park.
Baker City Police arrested a transient early Tuesday, June 15, on charges that he had broken into six cart storage sheds at Quail Ridge Golf Course and taken multiple items.
Baker City Events is bringing back a July tradition with the 2021 Kids Sidewalk Tribute parade on Thursday, July 1. This year's theme is "Salute to Super Heroes."
Baker County Commissioners could start a process this week intended to establish as a public road a mountain route that is the subject of a civil lawsuit a resident filed against the county on…
The Baker City Planning Commission wants to know what residents think about the city's housing situation, including zoning rules.
A 19-year-old Halfway man died Wednesday night, June 9 after crashing his Kia Spectra on Highway 27 about four miles south of Prineville, according to Oregon State Police.
Judy Chinn smiles as she looks at the white paper doves — 1,200 in all — streaming down the walls of the sanctuary.
The Oregon Government Ethics Commission voted unanimously Friday, June 11 to make a preliminary finding that Bill Harvey, chairman of the Baker County Board of Commissioners, violated state et…
Joel McCraw needed to find someone willing to spend the summer atop a mountain that has a three-state view but is far out of sight of any coffee shop or grocery store.
A Baker City woman is accused of throwing broken glass at Baker City Police officers, kicking two of them, and assaulting a corrections deputy during her arrest on domestic assault charges Wed…
Oregon's Government Ethics Commission is scheduled to determine Friday, June 11 whether Bill Harvey, chairman of the Baker County Board of Commissioners, violated state ethics laws last year.
A powerful spray of water shot into the blue sky in a Baker City field, followed by cheers of excitement.
Local families are connecting with farmers again this summer to buy fruit and vegetables through the Farm Direct Nutrition Program available to WIC participants.
Baker City voters could get a chance to say whether or not they support the possibility of creating a "quiet zone" for freight trains within the city limits.
A 32-year-old Baker City man pleaded guilty Tuesday, June 8, to receiving a $145,200 federal COVID-19 relief loan on behalf of a fictitious company and then using the money for personal purpos…
A Haines woman was arrested Monday afternoon, June 7, after police deployed spike strips to stop her car during a pursuit on Highway 30 after she allegedly stole items from the Haines Sell-Rit…
The 2021 Baker City Cycling Classic returns this month after a one-year hiatus.
The Baker City Council will review results from an online survey that asked residents their impressions of the Baker City Police Department.
Baker County Commissioners on June 2 approved an applicant's request to build a home farther from a public road than is usually allowed in the county's zoning ordinance.
Grey skies, sprinkles of rain and chilly winds had no effect on the cheers that erupted at Baker Bulldog Memorial Stadium Sunday afternoon, June 6.
The first week of June has given thermostats in Baker City hardly a moment's rest.
Spencer Shirtcliff lost his senior prom and his graduation ceremony and his final high school baseball season to COVID-19, but he concedes things might have turned out even worse.
As Nicole Sullivan stands at the lectern Sunday afternoon and gives the Baker High School commencement address, she'll remember when some of the faces gazing up at her looked quite different.
Music in Geiser-Pollman Park starts this weekend and continues throughout the summer.
After more than a year, children will once again gather for storytime with Missy Grammon from the Baker County Library.
Noel Livingston and Joel McCraw ponder the coming fire season with not a small amount of dread.
Gordon Holman hopes his efforts to restore a longtime church in Baker City will result in a congregation once again gathering inside to worship.
Bicycle riders of all ages are invited to a one-day Bike for the Health of It event on Sunday, June 13.
Al Fortham Memorial Scholarship
Wolves from the Keating pack killed a four-month-old calf on a private pasture north of Keating Valley last weekend, the Oregon Department of Fish and Wildlife (ODFW) said.
A body found this morning, June 1, in the Powder River near Hughes Lane in north Baker City is believed to be that of Raleigh David Rust, 46, a Baker City man reported missing last week, accor…
After skipping 2020 due to the coronavirus pandemic, Missoula Children's Theater is returning to Baker City.
June's sizzling debut is likely to become a record-breaker.
A Condon woman sustained a fractured femur, and her husband had a leg fracture and a torn knee ligament, but their young grandson was not hurt Sunday morning, May 30, when their four-wheeler r…
On a tranquil and sunny morning, with only the soft rustle of a warm May wind fluttering the hundreds of American flags at Mount Hope Cemetery, Ralph Cole asked those attending a Memorial Day …
Christopher Hobson has come full circle to land, once again, in his school library.
U.S. Sen. Jeff Merkley said this week that he will lobby the Biden administration to spend at least $1 billion more per year for logging, prescribed burning and other work designed to make fed…
The Baker City Council approved a resolution Tuesday, May 25 that declares the city a Second Amendment sanctuary and states that the council opposes "any legislation that would infringe upon t…
For a few hours on Tuesday, May finally upheld its soggy reputation.
When meat prices rose in response to the COVID-19 pandemic, Ken Olson wanted to help local consumers purchase products from local producers.
Baker City Events, which organizes the Powder River Music Review, has announced that the planned "Battle of the Bands" will not be happening.
Memorial Day weekend always brings a wagon encampment reenactment at the National Historic Oregon Trail Interpretive Center.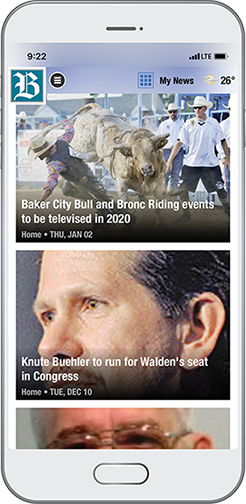 Get breaking news!