RICHLAND — The Dry Gulch fire was contained at 297 acres on Monday night after threatening five homes.
The Baker City Police Department is seeking help from anyone with information about the theft of commercial-grade circuit breakers from two business sites over the past month.
The Baker City Council on Tuesday appointed three members to a committee that will help distribute the $292,929 the city has received in federal aid for the coronavirus pandemic.
After being forced to close her Baker City salon for most of the spring due to state restrictions prompted by the coronavirus pandemic, Shannon Lang-Maxwell had just returned to something like…
The Ford Family Foundation has awarded the Baker School District a $25,000 grant to support the Baker Early Learning Center.
Baker City Police Chief Ray Duman and Amanda Baker, the city's community service officer, really weren't looking for activity that would cause them to step out into the record-breaking heat on…
Baker City Police Chief Ray Duman and Amanda Baker, the city's community service officer, really weren't looking for activity that would cause them to step out into the record-breaking heat on…
Although Oregon officials have loosened the requirements for some rural schools to have students return to classrooms, Baker School District students still will begin the year on Sept. 8 with …
The Baker County Narcotic Enforcement Team and uniformed city, county and state law enforcement officers arrested three people on drug charges Friday after executing search warrants at two Val…
Kassaundra Meng has three children starting school in less than a month, along with one computer and an overstressed internet connection.
A Stanfield woman died in a one-vehicle rollover after veering off the westbound lanes of Interstate 84 about 10 miles north of Baker City and crashing Friday afternoon.
The Baker City Public Works Department plans to chip-seal sections of several streets starting Aug. 17 and continuing for four straight days that week, weather permitting.
Press release from the Baker City Police Department:
Baker County's Emergency Management Department issued a notice Monday morning to about 10 homeowners north of Richland asking them to be ready to possibly evacuate after a grass fire started n…
Stephen Howard's novel was years in the making but it only took him a month to get into book form.
A species of moth that, in caterpillar form, likes to munch on the needles of fir trees is having one of its periodic population surges on parts of the Wallowa-Whitman National Forest.
The Soroptimist International of Baker County has announced the award of a grant aimed at supporting women in business and two scholarships to help young women continue their educations.
Baker School District students will register for classes at their own schools this year rather than gathering at Baker High School for a Parent Resource Fair as has been done in the past.
For more than a century the Baker County Fair and the youth-raised livestock that go along with it have been a part of the county's culture.
A series of storms Wednesday afternoon and evening brought abundant lightning that sparked more than 20 fires, most of them small blazes that have been contained, in Notheastern Oregon.
Baker County commissioners voted unanimously Wednesday to buy an office from New Directions Northwest with a plan to move the county's health department into the $500,000 structure at 2200 Fourth St.
The Baker County Chamber of Commerce's Visitors Center in Baker City will reopen Friday for the first time in four months, and resume daily operation from 8:30 a.m. to 5:30 p.m.
Whether any Baker School District students are sitting in a classroom when the school year starts on Sept. 8, rather than sitting in front of a computer screen at home, could depend on how per…
The ability of the Baker County Narcotics Enforcement Team to follow up on crimes through conducting interviews and gathering evidence over a longer period of time is credited with leading pol…
LA GRANDE – The Wallowa-Whitman National Forest has reopened the Starkey Experimental Forest and Range to the public.
The pandemic foiled a football game but it proved no match for the generosity of Baker County ranchers and farmers, and Shriners and other volunteers across Oregon.
State support for easing requirements to allow in-person classes in Baker schools and other sparsely populated Eastern Oregon counties will be moot until the current uptick in COVID-19 cases ends.
Two Baker County businesses each received a loan exceeding $1 million through the CARES Act that Congress passed in late March at the outset of the coronavirus pandemic.
A Baker City woman who was hiking with friends and found herself stranded on steep, rocky terrain above Hoffer Lakes in the Elkhorn Mountains was brought to safety by a search and rescue rope …
7.4 miles down, 15.9 miles to go.
Matt Hutchinson is one of the few people who can say, with conviction, that "it's been a pretty quiet year so far on the virus front."
Members of the Baker County Narcotics Enforcement Team spent this week issuing citations to people known to have outstanding warrants and working to curtail problems at a house just a block ea…
A Durkee man was arraigned Friday in Baker County Circuit Court on multiple counts of child sexual abuse.
Joe Aragon, an alumnus of Northern Arizona University, is no stranger to high desert areas like Baker County.
Baker City Public Works Director Michelle Owen is asking residents to use less water during the heat wave.
The Wallowa-Whitman National Forest, in response to rising wildfire danger, will impose more stringent restrictions on campfires and chainsaw use starting at 12:01 a.m. Friday, July 31.
Firefighters from the Oregon Department of Forestry, U.S. Forest Service and BLM are working on or searching for wildfires sparked by lightning during a electric Wednesday evening in Northeast…
The Baker City Council on Tuesday restricted parking on a section of Broadway Street near Brooklyn Primary School so students can walk from the school to waiting cars without having to cross a…
Women in America gained the right to vote 100 years ago.
Worm poop might not top the list of things Baker City residents think they need, but David Henry, president of Baker Sanitary Service, thinks that substance might help the city become more env…
Jeff Colton wants people who have been relishing the Powder River's cool water during this, the hottest week of 2020, to know that the river will look quite different starting today.
A Baker City man accused of taking a family's pet dog from a Foothill Drive yard has been charged with first-degree theft, criminal trespassing and animal abandonment after allegedly failing t…
An abatement order signed in May by Justice of the Peace Brent Kerns was executed Monday at 2339 East St. in Baker City.
The Idaho earthquake that rattled Baker City happened almost four months ago but one of its effects might have been percolating ever since.
Baker County Sheriff's officers believe a 14-year-old boy who waded into the water on the banks of Oxbow Reservoir at the eastern edge of the county stepped into a steep drop-off and drowned M…
It all started with a modest crop of potatoes, and now, 105 years later, the Ward family's fields in Baker Valley continue to yield their yearly bounty of spuds.
BAKER CITY – With recent hot, dry weather increasing fire danger in Eastern Oregon, the Wallowa-Whitman National Forest has implemented Phase A of the Public Use Restrictions (PURs) to limit t…
A grand jury has determined the death of a Baker City woman who died July 5 after falling from a moving vehicle was not the result of criminal behavior.
Students at Baker School District's Summer Academy are getting an early introduction to some of the new technology that will be in use when the 2020-21 school year begins.
Baker County wants to buy an office building in Baker City and move the county's Health Department into the structure.
Baker City councilors on Tuesday discussed the experience they want in a new city manager, the salary range they should offer, and other issues related to the recruitment process.Councilors, m…
Doris Hutton and her father, Joe Heck, had a chance to do something Tuesday morning that they've missed since March.
Melody Huff tried to remain optimistic that not even a pandemic could stop an event that's been a Baker County summer tradition for almost a century.
Starting at 5 p.m. Wednesday, July 22, all open burning, including burn barrels, will be prohibited within the Baker CIty limits due to increasing fire danger.
Suzan Jones, chair of the Baker County Republican Party, has been selected as an at-large delegate for the 2020 Republican National Convention.
Baker City's traffic signals will become more visible this week.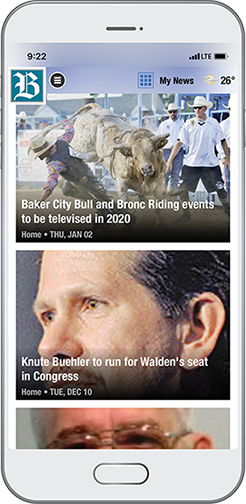 Get breaking news!