No speck of dust is safe when Boomers with Brooms take to Main Street.
On the night of May 29, a metal giraffe disappeared from the sidewalk outside Mad Habit Boutique in downtown Baker City.
Joshua Baker, the Halfway man whose case was returned to Baker County last week for possible retrial after he had served 2 years of a nearly 19-year sentence on a sex abuse conviction, has bee…
Baker County began the second phase of the state's reopening plan today, with more people allowed to attend both indoor and outdoor events, including church services.
The traditional Baker High School Honors and Awards program was viewed from home or elsewhere by this year's graduating seniors and their proud parents and extended families.
Joshua Baker, the Halfway man who had served two years of a mandatory mimimum prison term of almost 19 years for sexually abusing a girl, was released Wednesday after his 2018 conviction was o…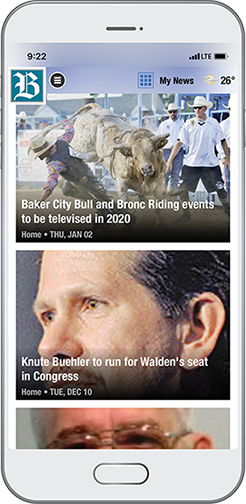 Get breaking news!
Joshua Baker, the Halfway man who had served two years of a mandatory mimimum prison term of almost 19 years for sexually abusing a girl, was released Wednesday after his 2018 conviction was o…
"Trump gear, hats, shirts, flags," reads a sign outside Steven Goodman's colorful merchandise booth along Campbell Street in Baker City.
About 115 people attended a Monday night vigil in Baker City for George Floyd, the man killed by a Minneapolis police officer during a May 25 arrest.
University of Oregon junior Sam Anthony started his first real job at the Baker City Herald on Monday.
Administrators from more than two dozen school districts in the eastern reaches of Oregon want to be heard as state school leaders make plans to reopen classrooms next fall.
Reanna Clark seems more interested in tasting her brand new book than reading it.
Crews from Oregon Trail Electric Cooperative worked overnight to restore power after a windstorm hit Eastern Oregon Saturday afternoon.
The Baker County Fair will go on as scheduled, Aug. 3-7, but the annual event will be different due to the coronavirus pandemic.
Baker County's rate of testing for coronavirus should accelerate soon.
The Baker City Farmers Market opens Wednesday with a few changes due to the coronavirus pandemic.
A former Baker City couple wants to build a 21-lot residential subdivision west of Interstate 84 and north of Campbell Street.
A Baker City man who failed to appear for sentencing after forging a plea agreement with the District Attorney's Office last May is back in custody.
The thick soles of Jeffrey Pettingill's leather work boots slam down simultaneously on the shovel, driving its blade several inches into the dirt.
An Idaho woman sustained what police termed "life-threatening injuries" when she was ejected from her vehicle as it rolled several times on the eastbound shoulder of Highway 86 about 15 miles …
Baker County is proposing that Gov. Kate Brown authorize theaters, bowling alleys and campgrounds to reopen, and allow more customers in restaurants and bars, during the second phase of the ec…
Oregon's solicitor general argues in a brief to the state Supreme Court that the Legislature did not intend to limit the duration of an emergency declared by the governor.
Once Baker School District Budget Board members got answers to some of their questions about items included or missing from the proposed 2020-21 budget, they approved the plan unanimously Tues…
Baker City Council members on Tuesday discussed installing motion-sensing cameras and lights to discourage vandals who have damaged the Powder River Pavilion in Geiser-Pollman Park.
Shelly Cutler is optimistic that Miners Jubilee — in some form — can happen as planned July 17-19.
Summer Curry's voice faltered for just a moment as she talked about those who didn't make it home.
The audience was larger than in recent sessions when the Baker School Board met Thursday night, but rather than gathering at City Hall as in pre-COVID-19 days, the crowd appeared by video from…
A Baker City man with a lengthy criminal record who was placed on probation in exchange for agreeing to testify at a murder trial is back in prison for using drugs and committing new crimes ju…
A day-long effort to track down an alleged kidnapper ended with the 11-year-old victim recanting his story that he had been abducted from his yard early Thursday morning.
The Baker City Planning Commission on Wednesday approved a proposed 16-unit housing complex with one- and two-bedroom units that the developer plans to rent to people 55 and older.
Jeff Colton was sorry about the rain Wednesday.
When Jimm Mooney heard there might not be a ceremony in the veterans section at Mount Hope Cemetery on Memorial Day due to the pandemic, his reaction was immediate.
Bruce Nichols earned a second 4-year term on the Baker County Board of Commissioners in Tuesday's election, and county voters extended a pair of property tax levies, one to control noxious wee…
With an optimistic eye to the future, Superintendent Mark Witty told budget committee members Tuesday night that he thinks the Baker School District can expect classes to return to "in-person …
Baker County commissioners on Wednesday approved a $56,000 upgrade to the security system at the Baker County Courthouse.
Wednesday was the wettest day at the Baker City Airport in almost 5 years.
Baker City voters made the usual choices in Tuesday's election — choosing candidates, mulling tax levies, selling a backhoe.
Former Sen. Cliff Bentz of Ontario won the Republican nomination for the 2nd Congressional District in Oregon on Tuesday.
Bruce Nichols has won re-election to the Baker County Board of Commissioners, based on unofficial results from the Baker County Clerk's Office. Nichols received 2,662 votes to challenger Loran…
A brief but potent storm spawned a wind gust that snapped the trunk of a mature maple tree in Geiser-Pollman Park Sunday afternoon.
The budget boards for Baker City and Baker County have scheduled meetings to review proposed budgets for the fiscal year that starts July 1.
Appraisers from the Baker County Assessor's Office have changed their approach as they start reappraising properties in Baker Valley, Keating Valley and Haines this week.
The Inland Cafe officially opened at 7 a.m. Friday, but five buddies just couldn't wait that long.
Census Bureau workers will be dropping off information to rural Baker County residents for another couple of weeks requesting that they complete their 2020 Census forms.
Annie Franks had a tree problem.
One of the local projects that hasn't been delayed by the coronavirus pandemic is the latest addition to Baker City's Geiser-Pollman Park.
Reflections from an editor
It started on May 11, 1870, with The Bedrock Democrat.
Reflections from the Herald's former publisher
Pondering the weight of the Herald's history
An Idaho man who was accused of reckless driving Sunday night and of threatening to back his pickup truck into a Baker City Police car early Monday morning, while the officer was inside, could…
A Union Pacific train crew used emergency braking Sunday afternoon to avoid hitting a man who was seen sitting on the train tracks in the area of B and 14th streets as the train approached.
Most Baker School District employees have accepted a plan that calls for them to be placed on furlough at a rate of 20% to 26% of their work week from now through July 31, and the rest could j…
The second round of a federal financial aid program for businesses harmed by the pandemic has been more beneficial for Baker County than the first round.
Baker Technical Institute has been awarded a $500,000 federal grant for its Brownfields Program to continue work to clean up the historic Central School building in Baker City.