It's time to start thinking about the drought
Some high school graduates are proficient in calculus while others struggle with algebra.
Leo Adler was not a large man but his legacy, which was substantial even during his life, has grown to massive proportions in the nearly three decades since his death.
The boy and his dog, that classic pair of pals, made for the sort of scene that I suspect would have pleased Norman Rockwell's eye and perhaps prompted him to daub at his palette.
Fly the America flag and show your pride
That the Oregon Legislature is devoting not only time, but actual legislation, to the issue of disposable wipes might seem an especially noxious example of lawmakers meddling in matters beyond…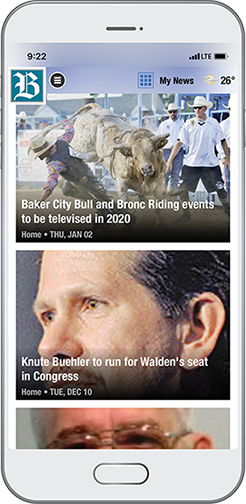 Get breaking news!
City shouldn't spend money to silence train whistles
The Baker City Council didn't make a final decision Tuesday, June 8, but councilors discussed asking voters in the future what they think about the city applying for a "quiet zone" within the …
Lack of consistency in reporting of COVID data
I am fascinated by the reality that anyone, in contemplating a pile of plain old cornmeal, could conceive of something as magical, as truly life-changing, as the Frito.
Why isn't Pine Creek Road 'grandfathered in?'
It seems unlikely that members of the Oregon Education Association, the teachers union that lavishes most of its campaign contributions on Democratic candidates, will ever pine for Republicans…
In the pantheon of patience, Job boasts the ultimate reputation.
The list of traditional activities that Baker High School seniors have lost over the past 15 months makes for a depressing litany.
Sen. Jeff Merkley has ambitious ideas about making federal forests healthier and less susceptible to the sorts of horrendous wildfires that devastated parts of Oregon in September 2020.
Working together to improve Oregon
Questioning legality of a locked gate
The rain woke me at 3:26 a.m.
The Biden administration should reject pleas from groups that earlier this week advocated for resuming federal protection for gray wolves in parts of the West, including Eastern Oregon.
Don't rewrite history based on current standards
It was a belated move, but at least the Oregon Health Authority dropped Baker County to the lowest risk level for COVID-19 spread before the first holiday weekend of summer.
Baker County seems to be beating the COVID-19 pandemic.
My kids, who normally act as though a five-minute car ride is a more awful punishment than banishment to a Siberian gulag, recently pleaded with me, as I pulled into our driveway after a 100-m…
Baker County's rate of new COVID-19 cases has dropped to its lowest level in more than three months, and our reward is ...
It was good news, but like so much else during the pandemic, the CDC's announcement last week about fully vaccinated people doffing face masks and eschewing social distancing in most situation…
I've been pleased recently to see that the fact-checkers at The Associated Press, who never refuted so many statements and with such apparent glee as they did during the Trump presidency, have…
The Baker County Narcotics Enforcement Team has been busy recently.
Bond measure adds to the tax burden for residents
The four hydroelectric dams on the lower Snake River in Southeast Washington might seem far removed — geographically and in other ways — from Baker County. But the future of those dams could h…
I didn't believe a patch of blackened tree stumps could shock me.
More to worry about than some power line towers
Oregon Gov. Kate Brown, in announcing on Tuesday, May 4, that Baker County and 14 other counties would move from extreme risk to high risk under the state's COVID-19 restrictions Friday, May 7…
Mayor, Council's stance make Baker City proud
City Council's cavalier attitude toward vaccination rates
A group of county commissioners from across Oregon, including Mark Bennett of Baker County, along with the Association of Oregon Counties and Oregon Restaurant and Lodging Association posed a …
I ought to have known that the solution to the COVID-19 vaccination challenge would involve doughnuts.
Disappointed that more people aren't vaccinated
Voters in the Baker School District spoke clearly, and with considerable volume, when the district asked them in November 2018 to approve a $48 million property tax hike to build a new element…
Drivers: please secure trash before heading for the dump
Baker County residents missed a chance on Saturday, April 24 to help protect themselves against COVID-19, and potentially to help some local businesses that have suffered significantly during …
Baker County's post-spring break, post-Easter surge in COVID-19 cases is waning.
Culley is right on immigration
Encouraging our future space explorers
President Joe Biden incurred the wrath of some people earlier this week when he said he was "praying" that the jury in the Derek Chauvin murder trial would reach the "right verdict."
Recalling a seminal moment in American history, 246 years after it happened
I decided last Sunday that my arid, ailing lawn needed a good dousing, but my enthusiasm for completing this simplest of tasks withered rapidly.
The numbers are real and so are the likely effects.
We understand, even though most of us have the luxury of not having to often think about it, that police officers put themselves in dangerous situations we probably will never have to face.
Appreciated Steve Culley's letter about immigration
You might scoff at the notion that you haven't heard enough about COVID-19.
Oregon Gov. Kate Brown has in effect acknowledged that the state's system for setting COVID-19 risk levels in the 36 counties, and the associated state-imposed restrictions on businesses and a…
Welfare system widens voter base for Democrats
America needs immigration control, not immigration reform
It might surprise you to learn that some members of the Oregon Legislature believe convicted rapists, murderers and people who exploit children for pornography in certain cases spend too much …