Premature references to 'president-elect' Biden
Now the swamp really has been drained
The roll of toilet paper looked as out of place as a bull elk in a library.
Every year is unique, but 2020 didn't need to try quite so hard to be different.
Let's work together to make progress on our problems
We know it's likely that either Steve Ashworth or Jonathan Cannon will be the new Baker City manager.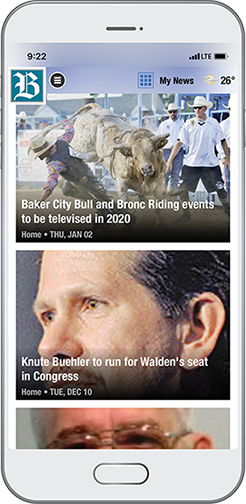 Get breaking news!
For the first time I have cause to wonder whether I might come under the scrutiny of the police, and solely because a couple of cars are parked in my driveway that aren't normally there.
Reviving America's principle of self-determination
Some day — and it's a day that can't arrive too soon — when we head out for a meal at a local restaurant we'll need to think only about what we plan to order.
Gov. Kate Brown was justified in taking action to try to reverse Oregon's unprecedented surge in COVID-19 cases over the past couple weeks.
President Donald Trump has plenty of reasons to be particularly gracious in defeat.
Amid political turmoil, Americans seek civility
Baker County's pandemic problems worsened Monday when Oregon Gov. Kate Brown announced that the county, along with eight others, including Union, would begin a 2-week "pause" on Wednesday.
Ignore laws and prepare to suffer the consequences
Counties should take back mental health programs
The Trump administration's decision last week to remove wolves from the endangered species list in the Lower 48 states provoked predictable complaints and vows of legal challenges from environ…
I spent a couple of mornings recently sifting through about a century of Baker County history, but I never touched a book.
President Donald Trump's slogan is "Make America Great Again."
Johnny Waggoner Sr. will make a great city councilor
My son, Max, handed me the Tootsie Roll Pop and I fancied that I could feel my molars quivering in their fleshy sockets.
Baker County bucked the statewide and national trends of rising COVID-19 infections for a couple weeks.
Councilors respond to excessive force policy issue
Nonpartisan nature of City Council important now
I've never met Stephen King and almost certainly I never will.
The first part of the greatest American tradition has happened.
Kerry McQuisten will work for a better future for Baker
America is making progress
The sound echoed through the forest and we all stopped hiking suddenly.
If you wondered what possible connection there could be between a $1.5 million federal grant to build a wellness center for people undergoing treatment for addiction or mental health issues, a…
The possibility that six of the seven Baker City Council members who plan to hire a new city manager later this year won't still be councilors when that person starts work seems at first glanc…
Republican Party should replace its elephant symbol
Gretchen Stadler is my top choice for Baker City Council
America is in the midst of a great spiritual battle
As the water gushed from the faucet near my front porch I had to pause for a moment, as sodden and helpless as a kitten stuck in a flooding stream, and simply admire what my pipes are capable of.
Imagine you were deprived easy access to a COVID-19 vaccine simply because you lived on the west bank of the Snake River rather than the east, in Oregon rather than in Idaho.
The gap between reasonable optimism and a reckless disregard for reality isn't always as wide as the difference in those terms might suggest.
Vote Yes on Measure 110 to expand addiction treatment
Kerry McQuisten a perfect candidate for City Council
I pressed my right foot hard against the gas pedal, as if I were digging a shovel's blade into the soil, and our Toyota FJ Cruiser's front tires plunged into the calf-deep mud puddle that span…
Vote yes on Measure 110: It's a humane approach
When the 2020-21 school year for the Baker School District started Sept. 8, students weren't were they normally are.
The pandemic has wrought such havoc on society that it's hardly unreasonable to wonder whether life will ever seem quite the same, at least for those who have lived through it and were old eno…
Nothing delights politicians more than the chance to rub someone's nose — figuratively, of course — in a steaming, aromatic pile of hypocrisy.
With deer in Baker City, the pros outweigh the cons
The newest addition to Geiser-Pollman Park has brought kids to Baker City's biggest park who in the past weren't able to play there.
The terms "coronavirus pandemic" and "good news" have not often collided recently in a single sentence. But the latter is appropriate for describing the former regarding the current situation …
I have been breathing, more or less constantly, for almost exactly half a century now, but respiratory prowess aside I can't seem to think of this pending milestone as especially meaningful.
States, not the feds, decide on education
Oregon Gov. Kate Brown, in a recent interview with CBS' "Face the Nation," used perhaps the most apt and succinct term to describe the wildfires that have devastated parts of western and south…
Democrats well-represented in slavery, segregation
I've written dozens of stories over the years about wildfires but until one moment, just before dawn on a recent morning, the topic seemed to me professional rather than personal.
On the worst day imaginable to be reckless with fire, at least two people were.
The scenario sounds farcical, more like a skit on "Saturday Night Live" than reality.
The White House and slavery