I understand why many people bristle at the notion of the government telling them to get a COVID-19 vaccine.
The boys were high school boys, a distinctive subspecies, and one inclined to moderately obnoxious, but generally good-natured, behavior.
I read "obituary" in the email and as always when I come across that lonely word, unattached to any name, I winced slightly, as if anticipating a possible blow.
I zipped the fleece jacket snug to my chin and still I shivered.
There's a certain majesty to a forest in the wake of a soaking rain — the jewels of water clinging to the ponderosa pine needles, the fresh scent of damp bark, the discarded diaper molding amo…
I opened the book's cover and almost immediately became lost in a world which no longer exists and, for me, never did.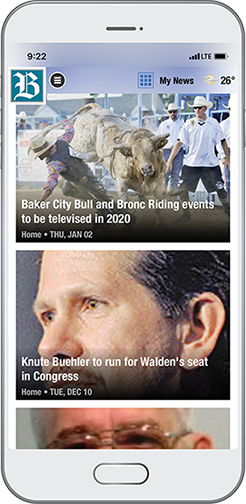 Get breaking news!
The rabbitbrush seems confused about which month it is, and it happens that I feel a trifle uncertain myself about precisely where we are on the calendar.
I'm no fan of the current war on "misinformation" — if anything, I'm a conscientious objector — and one of the reasons is the term's pedigree. Although the Grammar Curmudgeon in me freely admi…
I was sitting on an examination table at an urgent care clinic in Timonium, giving my history to a physician's assistant. An hour later, she would call me to confirm that I was positive for COVID-19.
I walked through Baker City's Pythian Castle with what I suspect was the bemused expression of a person who is seeing something that doesn't merely exceed his expectations, but lies well beyond them.
I have of late taken to preparing for my early evening stroll around town by dousing my T-shirt, and my hair, from the cold tap of the bathroom faucet.
I adore air conditioning.
I recently finished a landscaping project that was about 150 million years in the making.
I love the mountains but I don't trust them.
Starting in July, EO Media Group is launching Go! Magazine, a weekly arts and entertainment publication designed to do exactly what it says — get readers to "go" out and experience all of what…
I remember, and more clearly than most childhood episodes, the day my dad explained to me the concept of guilt by association.
The boy and his dog, that classic pair of pals, made for the sort of scene that I suspect would have pleased Norman Rockwell's eye and perhaps prompted him to daub at his palette.
I am fascinated by the reality that anyone, in contemplating a pile of plain old cornmeal, could conceive of something as magical, as truly life-changing, as the Frito.
In the pantheon of patience, Job boasts the ultimate reputation.
The rain woke me at 3:26 a.m.
My kids, who normally act as though a five-minute car ride is a more awful punishment than banishment to a Siberian gulag, recently pleaded with me, as I pulled into our driveway after a 100-m…
I've been pleased recently to see that the fact-checkers at The Associated Press, who never refuted so many statements and with such apparent glee as they did during the Trump presidency, have…
I didn't believe a patch of blackened tree stumps could shock me.
I ought to have known that the solution to the COVID-19 vaccination challenge would involve doughnuts.
President Joe Biden incurred the wrath of some people earlier this week when he said he was "praying" that the jury in the Derek Chauvin murder trial would reach the "right verdict."
I decided last Sunday that my arid, ailing lawn needed a good dousing, but my enthusiasm for completing this simplest of tasks withered rapidly.
You might scoff at the notion that you haven't heard enough about COVID-19.
In theory I could tally how many times Chris Collins' byline has been published in the Baker City Herald.
For the first time in my relatively uneventful life I was truly entertained by the chance to smash a fly with a rolled up magazine.
Until I read the book, I would have claimed, and with considerable confidence, that my feelings about the Holocaust were rigid.
The problem with leaves is that they don't.
When I got home from work the other day my son Max, who's almost 10, rushed into the kitchen with the sort of exuberance, and agility, that I haven't been able to muster for many years.
I learned at least one thing from the second impeachment trial of former president Donald Trump.
The email's subject line had the intended effect of causing my eyes to pause as they slid down the list of new messages in my inbox.
The saying that politics makes for strange bedfellows is a tidy aphorism, but I'm not sure it covers a situation as peculiar as Donald Trump and Nancy Pelosi sharing a section of squishy pillowtop.
Probably you've been so focused on the pandemic that the sausage scourge has escaped your attention.
We went for a walk along the Leo Adler Memorial Parkway the afternoon of the Sunday before Christmas, and we had an encounter with a couple of river otters.
At the risk of sounding hopelessly naive, I find it depressing just how much we depend on social media to communicate.
I was feeling melancholy the other day until I learned that I could buy a brand new, factory-warrantied pickup truck that makes 702 horsepower and can go from a standstill to 60 mph faster tha…
America needs a nickname for the cretins who busted into the U.S. Capitol on Wednesday and insulted our country in a way that the burning of a thousand flags would not.
America, mired in an endless exchange of angry diatribes aided greatly by the ubiquity of social media, needs to revert to a simpler, more organic form of communication.
I'd been asking for 2020.
The warm front, slinking in like a soulless thief, was, I fear, inevitable.
I watched the Grinch carve a slice off the roast beast and slide the plate over to Cindy Lou Who, and my throat suddenly felt slightly constricted, and my eyes warm with moisture.
There is the sort of historical site with paved paths and informative signs and generous parking lots, and there is the sort of historical site where you might end up needing a tetanus shot.
I nudged the carton of eggnog aside to get at a can of soda in the refrigerator and it occurred to me, rather jarringly, how misplaced that carton was.
The roll of toilet paper looked as out of place as a bull elk in a library.
For the first time I have cause to wonder whether I might come under the scrutiny of the police, and solely because a couple of cars are parked in my driveway that aren't normally there.
President Donald Trump has plenty of reasons to be particularly gracious in defeat.
I spent a couple of mornings recently sifting through about a century of Baker County history, but I never touched a book.
My son, Max, handed me the Tootsie Roll Pop and I fancied that I could feel my molars quivering in their fleshy sockets.
I've never met Stephen King and almost certainly I never will.
The sound echoed through the forest and we all stopped hiking suddenly.
As the water gushed from the faucet near my front porch I had to pause for a moment, as sodden and helpless as a kitten stuck in a flooding stream, and simply admire what my pipes are capable of.
I pressed my right foot hard against the gas pedal, as if I were digging a shovel's blade into the soil, and our Toyota FJ Cruiser's front tires plunged into the calf-deep mud puddle that span…
The pandemic has wrought such havoc on society that it's hardly unreasonable to wonder whether life will ever seem quite the same, at least for those who have lived through it and were old eno…