When the 2020-21 school year for the Baker School District started Sept. 8, students weren't were they normally are.
Nothing delights politicians more than the chance to rub someone's nose — figuratively, of course — in a steaming, aromatic pile of hypocrisy.
The newest addition to Geiser-Pollman Park has brought kids to Baker City's biggest park who in the past weren't able to play there.
The terms "coronavirus pandemic" and "good news" have not often collided recently in a single sentence. But the latter is appropriate for describing the former regarding the current situation …
Oregon Gov. Kate Brown, in a recent interview with CBS' "Face the Nation," used perhaps the most apt and succinct term to describe the wildfires that have devastated parts of western and south…
On the worst day imaginable to be reckless with fire, at least two people were.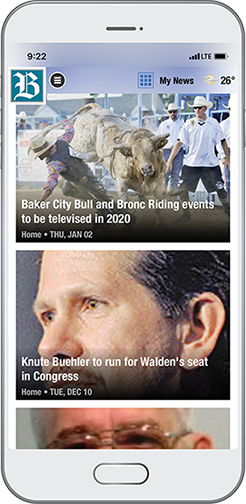 Get breaking news!
On the worst day imaginable to be reckless with fire, at least two people were.
The scenario sounds farcical, more like a skit on "Saturday Night Live" than reality.
We've been waiting for vaccines.
Flames destroy but they do not educate.
The coronavirus pandemic has forced Baker County Sheriff Travis Ash and other administrators at the County Jail to make difficult decisions since March.
Convincing Baker City residents to run for a seat on the City Council has sometimes proved a major challenge.
It's hard to imagine a better way to encourage people to stay 6 feet apart than to offer them $500 checks on a first-come, first-served basis.
Oregon education and health officials, in setting limits by which schools can resume in-person rather than online classes, this week wisely recognized that the coronavirus pandemic has had dis…
Contact tracing — until this year a process familiar mainly to epidemiologists — is elegant in its simplicity.
The Baker School Board made a disappointing decision Thursday.
The East-West Shrine All-Star Football Game has featured plenty of memorable football plays since the game moved to Baker City in 1973.
Baker City has money to spend and a deadline for spending it.
Oregon Gov. Kate Brown has given the Baker School District a series of tests to pass before the district can resume limited in-person classes for students starting Sept. 8, a plan the district…
The protesters who gather nightly in downtown Portland should start carrying fire extinguishers as well as signs. The vast majority of the protesters, based on a review of videos, are not igni…
The Baker School District is preparing to welcome students to classrooms, most likely on Sept. 8, for the first time since schools were closed in March due to the pandemic.
Baker County is on Oregon's COVID-19 "watch list." This designation, which county officials announced Wednesday, sounds troubling. But the statistics show that Baker County's situation is one …
The Baker City Council is wise to try to make it easier for residents to file as candidates for the Nov. 3 general election, during which six of the seven seats on the Council will be open.
We have been inundated with numbers since the coronavirus pandemic started.
Face masks and shields are not a panacea to the coronavirus pandemic.
The Baker School District's plan for classes when the district's 1,700 or so students return in late August is not ideal.
Leaders from the Lighthouse Pentecostal Church in Island City, the epicenter for Oregon's biggest COVID-19 outbreak, have declined to respond to multiple media requests for interviews, includi…
It was another disappointment in a season of disappointments.
Baker County officials don't have a timeline in their effort to persuade Oregon Gov. Kate Brown to further ease restrictions on local businesses and events during the coronavirus pandemic.
The proclamation that Baker City Mayor Loran Joseph read during the City Council's Tuesday meeting, and that he and the six other councilors approved, was a well-crafted and welcome statement …
We have as a country identified a problem — police brutality, and in particular the mistreatment, and too often the killing, of black Americans.
You'll be riding in cars Sunday afternoon rather than walking across the lush grass of Baker Bulldog Memorial Stadium.
The Bill of Rights has been on prominent display recently in America and we're reminded yet again of the elegance of that enduring document, the great wisdom that went into its creation and th…
It lasted for only about an hour.
George Floyd should be alive.
Government officials, including Oregon Gov. Kate Brown, have said they don't believe society can return to something approaching normal until a vaccine is widely available for the coronavirus.
The Class of 2020 is special.
The gradual reopening of Oregon's economy has also included, to a limited extent, outdoor recreation, as both state and federal agencies have opened some parks, boat launches, trailheads, day-…
Diners at some Baker City restaurants sipped coffee, dug into omelets and poured syrup over their pancakes Friday morning. Others finally got their shaggy locks trimmed.
Oregon state government hasn't suffered the economic devastation that has plagued private sector businesses during the coronavirus pandemic, but the state's budget is hardly immune to the effe…
The news finally arrived Wednesday, and it ought not to have surprised anyone.
With three of Baker County's signature events already canceled due to the coronavirus pandemic — Sumpter's flea market and the Huntington Lions Catfish Derby during Memorial Day weekend, and t…
More than 550 Baker County residents have filed for unemployment benefits since March 15 — about 10% of the county's nonfarm workforce. Given that nearly 60% of county residents live in Baker …
Baker County officials have struck a reasonable balance in pursuing a vitally important goal — removing the shackles that have stifled the local economy, but without opening the floodgates to …
Oregon lawmakers passed on a chance to help ailing rural hospitals on Thursday, including Saint Alphonsus Medical Center in Baker City. The Legislature's 20-member Joint Emergency Board needs …
Oregon Gov. Kate Brown is considering easing some of the restrictions in her March 17 executive order, at least in rural counties. Officials in Baker County and other counties that have had no…
Although scientists are learning more about the coronavirus almost literally on a daily basis, for the general public a fundamental question remains unanswered — how many people, in a given ar…
The discussion among government officials has shifted this week from a focus on how much we should restrict society to combat the coronavirus, to how we can start resuming something resembling…
Business owners can adjust to the cyclical nature of the economy, but it's unlikely that even the best-prepared merchant would have designed a business plan that anticipates anything like the …
Only with the benefit of hindsight will we be able to judge whether some of the precautions taken to ostensibly stem the spread of coronavirus were proportional to the risk.
Baker County's public councils, boards and commissions are striving to make their meetings accessible to the public via a variety of online and phone options in the era of coronavirus.
Baker City has struck what seems to be a reasonable balance in dealing with residents who are behind in paying their water/sewer bill. City Manager Fred Warner Jr. said this week that the city…
Most of us probably didn't need a global pandemic to appreciate the bounty of public land in Northeastern Oregon.
The upheavals caused by the coronavirus, unprecedented in the memories of almost everyone alive today, could serve as the plot for a dystopian novel or film.
The list of grievances against the internet is a long and sometimes sordid one.
We're less than a week into one of the more noteworthy periods in American history, and although only the passage of time will allow us to reflect on the coronavirus crisis with true perspecti…