George Floyd should be alive.
Government officials, including Oregon Gov. Kate Brown, have said they don't believe society can return to something approaching normal until a vaccine is widely available for the coronavirus.
The Class of 2020 is special.
The gradual reopening of Oregon's economy has also included, to a limited extent, outdoor recreation, as both state and federal agencies have opened some parks, boat launches, trailheads, day-…
Diners at some Baker City restaurants sipped coffee, dug into omelets and poured syrup over their pancakes Friday morning. Others finally got their shaggy locks trimmed.
Oregon state government hasn't suffered the economic devastation that has plagued private sector businesses during the coronavirus pandemic, but the state's budget is hardly immune to the effe…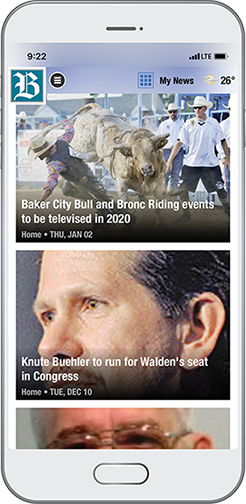 Get breaking news!
Oregon state government hasn't suffered the economic devastation that has plagued private sector businesses during the coronavirus pandemic, but the state's budget is hardly immune to the effe…
The news finally arrived Wednesday, and it ought not to have surprised anyone.
With three of Baker County's signature events already canceled due to the coronavirus pandemic — Sumpter's flea market and the Huntington Lions Catfish Derby during Memorial Day weekend, and t…
More than 550 Baker County residents have filed for unemployment benefits since March 15 — about 10% of the county's nonfarm workforce. Given that nearly 60% of county residents live in Baker …
Baker County officials have struck a reasonable balance in pursuing a vitally important goal — removing the shackles that have stifled the local economy, but without opening the floodgates to …
Oregon lawmakers passed on a chance to help ailing rural hospitals on Thursday, including Saint Alphonsus Medical Center in Baker City. The Legislature's 20-member Joint Emergency Board needs …
Oregon Gov. Kate Brown is considering easing some of the restrictions in her March 17 executive order, at least in rural counties. Officials in Baker County and other counties that have had no…
Although scientists are learning more about the coronavirus almost literally on a daily basis, for the general public a fundamental question remains unanswered — how many people, in a given ar…
The discussion among government officials has shifted this week from a focus on how much we should restrict society to combat the coronavirus, to how we can start resuming something resembling…
Business owners can adjust to the cyclical nature of the economy, but it's unlikely that even the best-prepared merchant would have designed a business plan that anticipates anything like the …
Only with the benefit of hindsight will we be able to judge whether some of the precautions taken to ostensibly stem the spread of coronavirus were proportional to the risk.
Baker County's public councils, boards and commissions are striving to make their meetings accessible to the public via a variety of online and phone options in the era of coronavirus.
Baker City has struck what seems to be a reasonable balance in dealing with residents who are behind in paying their water/sewer bill. City Manager Fred Warner Jr. said this week that the city…
Most of us probably didn't need a global pandemic to appreciate the bounty of public land in Northeastern Oregon.
The upheavals caused by the coronavirus, unprecedented in the memories of almost everyone alive today, could serve as the plot for a dystopian novel or film.
The list of grievances against the internet is a long and sometimes sordid one.
We're less than a week into one of the more noteworthy periods in American history, and although only the passage of time will allow us to reflect on the coronavirus crisis with true perspecti…
Running a small business can be a challenge in the most normal of times.
It's what we don't know about coronavirus -- what we can't yet know -- that dictates our response to the early stages of the pandemic.
Baker City has a problem with its streets.
Oregon House Speaker Tina Kotek, Senate President Peter Courtney and some other Democrats in the state Legislature are accusing Republicans of failing to do their jobs by leaving Salem to deny…
The Baker County Board of Commissioners has had a couple of puzzling oversights over the past month or so.
In the cold calculus of politics, salmon, steelhead and orcas might have more electoral value, in some races, than Baker County voters have.
It's hardly surprising that some local ranchers are dissatisfied with Oregon's wolf depredation compensation program.
The Associated Press fact-checked President Trump's State of the Union speech the day before he gave it. The newsgathering organization, of which the Herald is a member, didn't have an advance…
The trucks rolled into Salem Thursday morning, the vehicles representing people who have jobs and pay taxes that make possible all manner of government services.
The Oregon Legislature's session that started Monday is limited to 35 days, but lawmakers should be able to find time to pass Ezra's Law.
The ostensible purpose of Oregon's Public Records Law is both simple and noble.
Baker County's 2 million acres are divided almost equally between private and public land.
The controversy over Verizon Wireless' application to build a 70-foot cell tower in north Baker City has spurred interest among some residents in a topic that generally draws scant attention: zoning.
A relatively tranquil winter turned rabid this week in Northeastern Oregon.
America's current conflict with Iran thus far has been, on balance, positive for the U.S.
Whatever you think about Verizon's proposal to build a 70-foot cell tower in North Baker City, you should be troubled by one claim in the appeal the company filed after the Baker City Planning…
The Oregonian, Oregon's largest newspaper, announced this week that as of Jan. 2 its website, OregonLive, will stop accepting and posting reader comments.
Baker High School's football team shouldn't have to drive most of the way to the Pacific Ocean to play a nonleague game.
Bipartisanship seems to be more of a concept than a reality these days in Washington, D.C., the lopsided party-line votes on the two articles of impeachment against President Donald Trump bein…
Some pundits have reacted with concern, and others with glee, at the video that seems to show the leaders of France, the U.K. and Canada laughing at President Donald Trump at a meeting earlier…
Baker City Manager Fred Warner's proposal to transfer operation of the city-owned Quail Ridge Golf Course to the nonprofit corporation that runs Anthony Lakes Mountain Resort, an idea endorsed…
Karen Spencer, coordinator of the Baker County Parks Department, had ample reason to recently describe the department's financial situation as "not sustainable."
The Forest Service is having another go at writing new long-term management plans for the three national forests in the Blue Mountains and this time, officials hope, things will be different.
A cold wind will likely be blowing Thursday, but there is no reason why anyone in Baker County should not sit down to a steaming hot Thanksgiving meal among pleasant company.
Brandon Young loves wrestling.
We don't yet know whether the Baker City Council will commit public dollars to establishing a Quiet Zone in town, meaning freight trains would no longer sound their whistles as they approach s…
It's easy to say, on this day devoted to them, that we should thank military veterans for their service to America.
A series of public meetings that will be scheduled later this year could have significant effects on public safety in Baker City and Baker County, and everyone should consider attending one.
Greg Walden has effectively advocated for the beliefs of a majority of his constituents during his nearly 21 years representing Baker County and the rest of the 2nd Congressional District, whi…
No responsible gun owner would object to the basic premise that guns should be stored in a way designed to ensure that nobody who shouldn't have access to the guns will have.
The Baker School Board and its school improvement committee obviously learned something last November when voters defeated, by a wide margin, a $48 million property tax bond measure to build a…
Enough time has passed — 22 years — since the last Amtrak passenger train rolled to a stop in Baker City that some people likely have only a hazy memory, if any at all, of seeing the train par…