Quiet zone, school bond will improve our community
Councilor was wrong to cite 'emotion' in board choice
City shouldn't spend money on train quiet zone
Mayor made right decision on golf board member
Be selective in the sources of information you read
Don't like the political system? Try to change it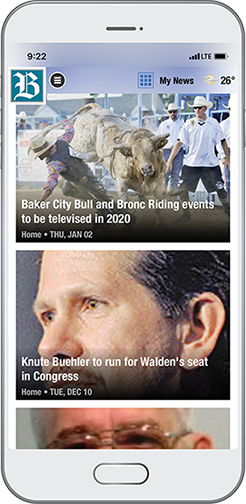 Get breaking news!
America needs dialogue rather than destruction
I support our new Congressman, Cliff Bentz
Political system doesn't reflect local interests, values
How did Trump fail us? Let us count the many ways
Government is threatened by 2020 election fraud
Proof lacking of Trump's claims for election fraud
Americans at least deserve to have a fair election
Trump's unconscionable use of federal death penalty
Premature references to 'president-elect' Biden
Now the swamp really has been drained
Let's work together to make progress on our problems
Reviving America's principle of self-determination
Amid political turmoil, Americans seek civility
Ignore laws and prepare to suffer the consequences
Counties should take back mental health programs
Johnny Waggoner Sr. will make a great city councilor
Councilors respond to excessive force policy issue
Nonpartisan nature of City Council important now
Kerry McQuisten will work for a better future for Baker
America is making progress
Republican Party should replace its elephant symbol
Gretchen Stadler is my top choice for Baker City Council
America is in the midst of a great spiritual battle
Vote Yes on Measure 110 to expand addiction treatment
Kerry McQuisten a perfect candidate for City Council
Vote yes on Measure 110: It's a humane approach
With deer in Baker City, the pros outweigh the cons
States, not the feds, decide on education
Democrats well-represented in slavery, segregation
The White House and slavery
Town-dwelling deer running amok in Baker City
The soul of American democracy is at stake
The North Powder FFA would like to publicly thank those involved in organizing and volunteering for the 2020 Baker Livestock Show. The fair board and livestock auction committee were able to f…
A tale of two recent letters to the editor
Banding together to stop B2H
Maybe 'Move Oregon's Border' should just move
Editor's column misplaced blame
An alternative to the B2H power transmission line
America has claimed land by right of conquest
Wearing a mask is a matter of science, not politics
Founding Fathers had flaws, but look what they left us
What would the gun-toters do if there were rioters?
Support police but also hold them accountable
City needs to be sure new playground is sanitized
Achieving equality requires votes as well as protests
We need to embrace all humanity in our hearts