Thanks to all who are helping during a tough time
Unprecedented action needed to curb spread of coronavirus
Shocked by selfish behavior during virus crisis
State Sen. Lynn Findley should return to the Capitol
Government must act boldly on global warming, wealth inequality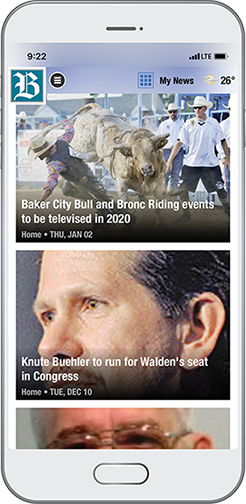 Get breaking news!
Abortion question makes me a single-issue voter
Stop spreading Trump's lies, exaggerations
Why did commissioners even consider a new 2nd Amendment ordinance?
Fighting global warming should be first priority
Better cell coverage important for rural residents
Trump ignores reality of America's economy
Saddened by the loss of newspaper carriers
Citizens should voice opposition to cap and trade
Verizon has other options
Teenager inspires nation to show that it's united
City needs to reject Verizon's proposed cell tower
More cell towers could be beneficial for rural residents
Idaho Power has clout to help Baker County with its parks funding problem
Farmers and ranchers will miss Greg Walden
Pelosi's comments on impeachment are inspiring
Translator district thankful for community support
Failure to tax wealthy leads to crumbling infrastructure
Beyond whistles: Creating a super fast train system
Lots happened at City Council besides train whistles
Urging planners to reject proposed cell tower
Thoughts on Veterans Day and train whistles
Planning Commission should reject proposed cell tower
Baker City Fire Department should continue as ambulance provider
A poetic plea to keep cell towers out of town
Warner should either retire or keep working — not both
City Council should not rehire Fred Warner as city manager
Herald failed to do its due diligence with misleading story about Truck Corral
Editorial on 10th Street striping misses the mark
Empathy for people who struggle with trailers
Idaho Power's spending doesn't justify building B2H
We must never forget 9-11-01
City Council should let the Public Safety Fee end
Green New Deal is a start to addressing U.S. issues
Concerned school district acted hastily with coach
Carbon cap will devastate Baker County's economy
Harvey has proved that he deserves to be re-elected
Democrats in Salem are bankrupting Oregon
Dodd-Frank Act needs one important change
An alternative to Trump's failed economic ideas
Trump's immigration policy does more harm than good
The timing was coincidental, but also revealing.
Landowners deserve to know more about B2H
County commissioners need to represent all constituents