With deer in Baker City, the pros outweigh the cons
States, not the feds, decide on education
Democrats well-represented in slavery, segregation
The White House and slavery
Town-dwelling deer running amok in Baker City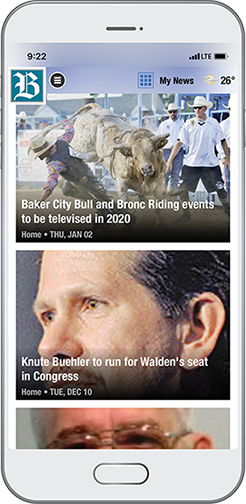 Get breaking news!
The North Powder FFA would like to publicly thank those involved in organizing and volunteering for the 2020 Baker Livestock Show. The fair board and livestock auction committee were able to f…
A tale of two recent letters to the editor
Banding together to stop B2H
Maybe 'Move Oregon's Border' should just move
Editor's column misplaced blame
An alternative to the B2H power transmission line
America has claimed land by right of conquest
Wearing a mask is a matter of science, not politics
Founding Fathers had flaws, but look what they left us
What would the gun-toters do if there were rioters?
Support police but also hold them accountable
City needs to be sure new playground is sanitized
Achieving equality requires votes as well as protests
We need to embrace all humanity in our hearts
Investing in our community, not only in policing
Letter criticizing other writers missed the mark
Wish there were more dine-in options in Baker
Speculation about Trump's mental fitness not out of order
Letter writers not qualified to diagnose president
Trump needs help — after he's voted out of office
We support Loran Joseph for Baker County Commission
Crumpacker best choice to succeed Walden in Congress
Grocery bags a health hazard
Baker's gas prices stand out — in a bad way
S. John Collins' layoff a loss to the entire community
Toilet paper hoarders should be ashamed
Firearms safety tips reworked to address coronavirus spread
Thanks to all who are helping during a tough time
Unprecedented action needed to curb spread of coronavirus
Shocked by selfish behavior during virus crisis
State Sen. Lynn Findley should return to the Capitol
Government must act boldly on global warming, wealth inequality
Confronting climate change
Abortion question makes me a single-issue voter
Stop spreading Trump's lies, exaggerations
Why did commissioners even consider a new 2nd Amendment ordinance?
Fighting global warming should be first priority
Better cell coverage important for rural residents
Trump ignores reality of America's economy
Saddened by the loss of newspaper carriers
Citizens should voice opposition to cap and trade
Verizon has other options
Teenager inspires nation to show that it's united
City needs to reject Verizon's proposed cell tower
More cell towers could be beneficial for rural residents
Idaho Power has clout to help Baker County with its parks funding problem
Farmers and ranchers will miss Greg Walden