What would the gun-toters do if there were rioters?
Support police but also hold them accountable
City needs to be sure new playground is sanitized
Achieving equality requires votes as well as protests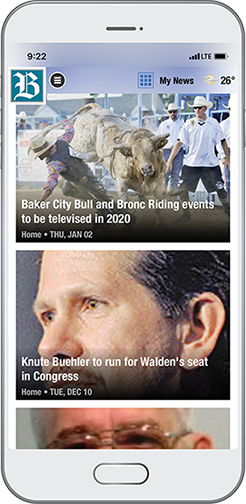 Get breaking news!
Investing in our community, not only in policing
Letter criticizing other writers missed the mark
Wish there were more dine-in options in Baker
Speculation about Trump's mental fitness not out of order
Letter writers not qualified to diagnose president
Trump needs help — after he's voted out of office
We support Loran Joseph for Baker County Commission
Crumpacker best choice to succeed Walden in Congress
Grocery bags a health hazard
Baker's gas prices stand out — in a bad way
S. John Collins' layoff a loss to the entire community
Toilet paper hoarders should be ashamed
Firearms safety tips reworked to address coronavirus spread
Thanks to all who are helping during a tough time
Unprecedented action needed to curb spread of coronavirus
Shocked by selfish behavior during virus crisis
State Sen. Lynn Findley should return to the Capitol
Government must act boldly on global warming, wealth inequality
Confronting climate change
Abortion question makes me a single-issue voter
Stop spreading Trump's lies, exaggerations
Why did commissioners even consider a new 2nd Amendment ordinance?
Fighting global warming should be first priority
Better cell coverage important for rural residents
Trump ignores reality of America's economy
Saddened by the loss of newspaper carriers
Citizens should voice opposition to cap and trade
Verizon has other options
Teenager inspires nation to show that it's united
City needs to reject Verizon's proposed cell tower
More cell towers could be beneficial for rural residents
Idaho Power has clout to help Baker County with its parks funding problem
Farmers and ranchers will miss Greg Walden
Pelosi's comments on impeachment are inspiring
Translator district thankful for community support
Failure to tax wealthy leads to crumbling infrastructure
Beyond whistles: Creating a super fast train system
Lots happened at City Council besides train whistles
Urging planners to reject proposed cell tower
Thoughts on Veterans Day and train whistles
Planning Commission should reject proposed cell tower
Baker City Fire Department should continue as ambulance provider
A poetic plea to keep cell towers out of town
Warner should either retire or keep working — not both
City Council should not rehire Fred Warner as city manager
Herald failed to do its due diligence with misleading story about Truck Corral
Editorial on 10th Street striping misses the mark
Empathy for people who struggle with trailers